Energy system of the future demonstrated in Orkney
Heriot-Watt University is the only academic partner involved in the first phase of a new £28.5 million project to create a Virtual Energy System (VES) in Orkney.
The ReFLEX (Responsive Flexibility) Orkney project has been launched to digitally link distributed and intermittent renewable generation to flexible demand and storage.
The first-of-its-kind system will interlink local electricity, transport, and heat networks into one controllable, overarching system with Heriot-Watt having a strategic role in providing its expertise in Whole System design and modelling.
The project aims to create a 'smart energy island', demonstrating the energy system of the future, which will reduce and eventually eliminate the need for fossil fuels.
The project is funded by UKRI through the Industrial Strategy Challenge Fund.
Principal Investigator at Heriot-Watt University, Professor David Flynn, said: "The only way to deliver an affordable, resilient and sustainable energy service to society is through an integrated whole systems approach. To understand the complexities across our critical infrastructure and to deliver demonstrable solutions, such research must happen in communities. The Orkney community is a global leader in energy innovation and this project has the potential to deliver a global impact to our low carbon objectives and also provide UK companies and communities with first mover advantage."
Led by the European Marine Energy Centre (EMEC), the ReFLEX Orkney project brings together an expert consortium of Orkney-based partners – Solo Energy, Aquatera, Community Energy Scotland, Orkney Islands Council and Heriot-Watt – as well as multi-national energy company Doosan Babcock.
Electricity, transport and heat powered by local renewable energy generation, will be coupled with flexible energy demand balancing the intermittency of renewables.
At the heart of the project is the demonstration of flexible energy balancing technologies. For example, the project aims to deploy:
Up to 500 domestic batteries;
Up to 100 business and large-scale batteries;
Up to 200 Vehicle-to-Grid (V2G) chargers;
Up to 600 new electrical vehicles (EVs);
An island community-powered electric bus and e-bike integrated transport system;
Up to 100 flexible heating systems; and
A Doosan industrial-scale hydrogen fuel cell.
Solo Energy will implement their FlexiGrid software platform enabling smart monitoring and control of the flexible technologies to charge during periods of peak local renewable generation, and release stored energy during times of peak demand.
These technologies will be introduced under attractive leasing type finance and novel ways of ownership that avoid the end user requiring major capital investment.
This pioneering project will help Orkney maximise the potential of its significant renewable generation capabilities, help to ensure higher quality and more affordable energy services, as well as further lowering the county's carbon footprint by decreasing reliance on imported carbon-intensive grid electricity from the UK mainland.
Once demonstrated and proven in Orkney, it is expected that the VES model and associated integrated energy service supply framework will be replicated in other areas across the UK and internationally, building long term export opportunities for the ReFLEX project partners and helping to create more flexible and renewable-based energy systems.
Professor Edward Owens, Director of Heriot-Watt's Energy Academy, said: "ReFLEX is another example of the critical mass Heriot-Watt has, in multidisciplinary research aligned to the whole system energy agenda. Expertise from across our research institutes and learning from our strategic national and global research programs in energy system integration, will support ReFLEX in delivering on its ambitious objectives."
Professor Richard A. Williams, Principal and Vice-Chancellor of Heriot-Watt University, said: "Our Orkney campus is a wonderful example of academics and students taking a collaborative approach across sectors to create and share new knowledge. The campus regularly engages with local community as well as with industry to develop innovative solutions designed for use in today's modern world.
"The island itself is a world leader in both the quantity and diversity of renewable energy infrastructure it has deployed, in the past 20 years, and it offers an ideal environment to create an integrated and truly smart, future energy system."
ReFLEX builds on Heriot-Watt University's critical mass in national and international energy system research. The University has an international reputation in embedded intelligence in energy systems and on delivering large scale and complex multidisciplinary projects.
These include ORCA, HOME Offshore, the Heriot-Watt Smart Systems Research Group and the Heriot-Watt Energy Academy.
Article by Heriot-Watt - https://www.hw.ac.uk/news/articles/2019/energy-system-of-the-future-demonstrated-in.htm
PRESS RELEASE: BLUE-GIFT SUPPORTS NINE OCEAN ENERGY COMPANIES TO TRIAL AND VALIDATE THEIR TECHNOLOGIES
The first call for applications of the €2.5 million Blue-GIFT (Blue Growth and Innovation Fast Tracked) project led by EMEC, ended in September with a successful outcome for nine companies.
Funded by Interreg Atlantic Area, the Blue-GIFT project is a coordinated ocean energy technology demonstration programme, encouraging longer-term demonstration and technology de-risking across the Atlantic Area regions.
The 1st call offered support package vouchers to ocean energy companies for access to Blue-GIFT test and demonstration sites across the Atlantic Area for validation of their technologies in real sea environments. Building on the experience gained through the FORESEA project, soon to end in 2020, the result of the first call in the Blue-GIFT project has been a brilliant success.
Biscay Marine Energy Platform, in Spain hosted the ARRECIFE wave energy converter trials. This 1:3 scale device developed by the Basque company Arrecife Energy Systems was installed in the testing area in September. The non-grid-connected testing campaign lasted one month, and the device was decommissioned in October. Arrecife Energy Systems plans to deploy again next year.
Photo credits: Arrecife Energy Systems
Design Pro Renewables was awarded two vouchers for testing two devices at the SENNEOH tidal test site in France. The 25kW machine already deployed on site will benefit from an extended period for survivability testing until February 2020. The focus of the second project is the testing of a 60kW floating turbine system anchored to a pile, over a 12-month period.
Three small and medium sizes enterprises (SME's) have been awarded Support Package Vouchers that allow them access to the Oceanic Platform of the Canary Islands (PLOCAN) offshore test site in Spain. RW Power AS (Norway) propose a low-cost buoy based wave pump converter to deliver pressurized seawater for its use in desalination plants or to produce electric energy. EnerOcean S.L. (Spain) will test control strategies and new adaptations of their W2Power solution. Wavepiston (Denmark) will demonstrate a full-scale version of their Wave Energy Converter with 24 energy collectors. The testing phase for all developers at PLOCAN will start at the end of 2019 or early 2020.
Over the duration of the Blue-GIFT project, a minimum target of eight floating wind, wave or tidal technology demonstrations will be supported by the Blue-GIFT test sites located in the Atlantic Area region.
Ruari Brooker, Blue-GIFT Project Manager at the European Marine Energy Centre (EMEC) in Scotland, said:
"The response to this first call has been a tremendous result for the marine renewable energy sector in Europe. It demonstrates that there is a potential in this industry yet to be unleashed. Some of our applicants are already deploying their technology and 2020 is shaping up to be a pioneering year for the sector."
The nine companies that have been granted Blue-GIFT support for their technologies are:
PRESS RELEASE: EMEC AWARD HYFLYER HYDROGEN REFUELLING CONTRACT TO FUEL CELL SYSTEMS LTD
The European Marine Energy Centre (EMEC) have awarded a contract to fuel cell technology solutions provider, Fuel Cell Systems Limited (FCSL) to supply a mobile hydrogen refuelling vehicle for the HyFlyer project.
Funded by Innovate UK, the HyFlyer project aims to demonstrate hydrogen fuel cell powertrain technology for zero-emission aviation. The project will integrate a hydrogen fuel cell powertrain on board a Piper M-class six-seater aircraft and perform test flights out of Cranfield and Orkney.
The project is being led by ZeroAvia, developers of hydrogen fuel cell powertrain solutions, who are collaborating with fuel cell engineering company, Intelligent Energy, on the optimisation of its fuel cell technology for aviation use cases.
The tender for the mobile refuelling unit was issued by HyFlyer project partner EMEC Hydrogen who are investigating the infrastructure required and will supply renewably produced, green hydrogen for the flight tests in Orkney.
The scope of work contracted to FCSL involves the design and development of a mobile refuelling unit as a solution to supply hydrogen airside and fuel the aircraft for the test flights in Cranfield and Orkney.
FCSL designed and launched the first ever mobile hydrogen refuelling vehicle, HyTruck, back in 2016. It has since supported a range of projects, including a trial of Suzuki fuel cell powered scooters by the Metropolitan Police and the testing of the first hydrogen fuel cell train in the UK (Hydroflex). It has also been used as support for vehicle launch events and ride-and-drives.
FCSL will supply a new refuelling vehicle for the HyFlyer project, based on this tried and tested design.
Tom Chicken, CTO at Fuel Cell Systems Ltd, said:
"We are excited that FCSL has been chosen to provide the refuelling product for this project. Providing fuel at the correct pressure, purity, quantity and place is a vital enabler to maximise the opportunity presented by hydrogen. HyTruck delivers on all these fronts and is an important part of our spectrum of mobile refuelling products."
Richard Ainsworth, Hydrogen Project Specialist at EMEC Hydrogen, said:
"EMEC Hydrogen are delighted to be working with FCSL in delivering a mobile refuelling truck for the HyFlyer project. With their expertise and experience in providing hydrogen refuelling solutions, HyTruck from FCSL allows us to use green hydrogen as a fuel that is compatible with the aircraft. This collaboration will see further integration of hydrogen infrastructure on Orkney and support the decarbonisation of lifeline transport services."
Article by emec - http://www.emec.org.uk/press-release-emec-award-hyflyer-hydrogen-refuelling-contract-to-fuel-cell-systems-ltd/
NOVEMBER 28, 2019PRESS TEAM
A new anchoring system installation, designed to accommodate and secure the large concrete caisson gates of Kishorn Port's Dry Dock facility, has been successfully deployed at the port in the West Highlands of Scotland.
Highland marine equipment firm Gael Force Group was awarded the £1m contract by Kishorn Port Ltd (KPL) to manage the specification, sourcing and delivery of mooring equipment for the dry dock facility.  The moorings were designed to allow the gates to be safely secured whilst the dry dock is open.
The two dry dock gates are of a considerable size each measuring 83 metres in length and weighing 11,000 tonnes when floated. The Dock is believed to be amongst one of the largest in the world, with up to 13.8m MHWS.  For the installation comprising two anchor arrays, 10 tonne High Holding Power Bruce Anchors were specified.
Gael Force subcontracted Green Marine (UK) Ltd to carry out the deployment and positioning of the equipment in Loch Kishorn. The in-house engineering team at Green Marine meticulously planned the operations and this, coupled with the highly skilled offshore team ensured that the project was completed safely and ahead of time.
Green Marine has a vast amount of experience in anchor handling works and has recently expanded its marine services by teaming up with Sustainable Marine Energy (SME) to bring a full suite of innovative and conventional anchoring and mooring solutions to customers worldwide. With this collaboration Green Marine is combining their excellence in marine operations with SMEs extensive experience in developing and installing anchoring solutions in some of the world's harshest marine environments.
Commenting on the successful completion of the project, Sales Director Jamie Young said;
"This was a project of a significant magnitude and we are pleased that KPL placed their trust in us and our reputation as an experienced moorings supply partner.  Our chosen installation partner Green Marine were completely professional in their approach to installation, carrying out their tasks on time and without issue.  It is satisfying for us, as a Highland business, to be playing a part in the continued development of these first-class port and dry dock facilities in the area."
Kishorn Dry Dock was recently refurbished, having been a site for major North Sea construction projects like the Ninian Central platform in the 1970s, and earlier this year hosted the world's largest semi-submersible rig, the Ocean GreatWhite.
Owners, Kishorn Port Limited, said the ongoing investment to upgrade the dry dock strengthens its position for "major decommissioning projects for oil and gas assets and for construction of offshore floating wind structures".
Article by Green Marine - https://greenmarineuk.com/news/
Orkney, Leader in Green Energy, Launches Wave Power Competition
When the wind on Orkney is strong enough to blow the rain parallel to the pavement, the cluster of gently sloping islands becomes a green energy powerhouse.
There are hundreds of small wind turbines dotted across the islands, tall punctuation marks outside farmhouses, cottages and engineering yards, and more than a dozen large commercial machines. On Monday, as the wind gusted to 45 mph (72 km/h), they were powering homes on the Scottish mainland with surplus energy, feeding more than 23 megawatts of electricity into the grid.
Best known for its Neolithic sites such as Skara Brae, its beef and its fishing expertise, Orkney has quietly but very deliberately become arguably the most self-sufficient community in the British Isles for its energy, and is home to many of the world's most advanced wave and tidal power machines. On Tuesday, in Orkney's second town of Stromness, that status was confirmed when Nicola Sturgeon, deputy first minister of Scotland, announced the world's most lucrative renewable energy competition: the £10m Saltire prize challenge.
Four marine energy firms have entered their wave- and tide-powered devices.
There is the Pelamis P2 "sea snake", a long, jointed device that harnesses energy by undulating with the waves off Sutherland; Aquamarine Power's Oyster 800, in which a large flap catches the waves' power off the Western Isles; MeyGen's tidal energy scheme in the powerful waters of the Pentland Firth, off Caithness, using underwater propellers anchored to the seabed; and Scottish Power Renewables, with scores of similar tidal turbines off Caithness. To win the Saltire prize, these machines must produce at least 100 gigawatt hours (Gwh) of electricity over a continuous two-year period between now and 2017. So far only four tidal- and wave-power devices being tested at the European Marine Energy Centre (Emec) at Stromness have produced electricity for sustained periods. Even then, that was over a matter of days, not months.
There is scepticism within the renewables industry about the purpose of the Saltire prize: the costs of entering it far outweigh its value. The real goal for the renewables industry is so obvious — to harness the immense energy of the sea, and tap into a global market predicted to be worth £1 trillion (US$1.3 trillion) — that its existence changes little.
Martin McAdam, chief executive of Aquamarine Power, said his firm would need to spend some £60 million ($95 million) building and then installing at least 20 of his Oyster 800s off the Western Isles to win the Saltire.
But what it does do, said McAdam, is give his industry a significant boost of confidence. "I like to say no one builds their business plan on the basis of winning a prize but the Saltire prize will bring focus on to the industry," he said.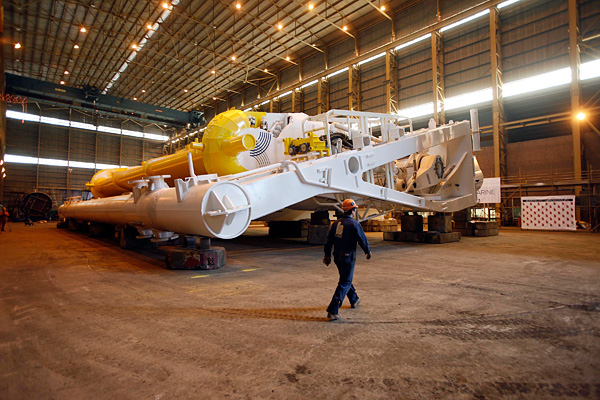 A worker inspects Aquamarine Powers next-generation Oyster 800. Photo by Aquamarine Power.
After years of ill-fated attempts to find a viable marine energy device, the industry is now on the threshold of a breakthrough into building commercially viable machines able to compete with offshore wind, and capable of replacing coal-fired power stations.
The magazine reNews estimates that the renewables industry will install 16 megawatts worth of wave and tidal machines during 2012 — four times more than last year — while global engineering and energy groups such as Rolls-Royce, Siemens and Alstom are now buying up the pioneering firms, which have created the first viable devices.
Neil Kermode, managing director of Emec, the largest wave and tidal testing centre in the world, said that was a clear signal that the immense potential of marine energy — particularly around the British Isles — was being recognised. A tidal machine developed in Northern Ireland by Marine Current Turbines — now owned by Siemens — has already generated 3 Gwh of electricity, a world record, reNews has disclosed.
"We're trying to work with various countries around the world, because we know how to get the technology to work," Kermode said. "It's quite a planetary imperative: there's a huge amount of energy out there and the sooner we can do this, the sooner we can decarbonise."
Orkney's desirability as a marine energy centre is shown every day at Emec's tidal testing range at Fall of Warness, a tide race off the island of Eday. Here is one of the world's strongest tides: its speed peaks at four metres per second, forcing through half a billion tonnes of seawater every hour.
Estimates suggest that around the Scottish islands, tidal and wave power could generate 38,500 Gwh a year, equivalent to three coal-fired power stations as large as Drax in north Yorkshire, the UK's largest.
McAdam predicts that wave and tidal machines will be as cheap to run as offshore wind turbines by 2017; by 2025, there will be vast marine energy farms at sea, generating hundreds of megawatts of electricity.
Many of the UK's earliest tidal power generators will be based around Orkney, the Pentland Firth and nearby Shetland. But Orcadians, brought up with an ethos of self-reliance and living daily with some of the UK's highest energy prices, have embraced micro-renewables with a gusto rarely seen elsewhere in the UK.
For a population of 20,000, there is already 55 megawatts of installed capacity, chiefly from several small commercial wind farms. In addition, there are now about 450 privately owned wind turbines and perhaps as many as 100 solar panel arrays and more than 150 ground-source heat pumps fitted to homes, schools and offices.
With extra machines being installed now, Gareth Davies of the Stromness-based renewables consultancy Aquatera estimates that 85% of Orkney's entire electricity demand will be met by its home-grown renewables industry by early 2013. It will soon exceed 100%.
Six communities own their own large wind turbines — each turn of the blades earns them 7 pence — and 10 more are considering it. On the island of Shapinsay, the community has bought a minibus, employed an out-of-hours ferryman able to take them to the cinema in Kirkwall and is planning to buy its own boat. The council has begun running Scotland's only electricity-powered lorry: it collects refuse in and around Kirkwall.
"What Orkney is doing in UK terms is it's the first community which has embraced renewables as part of everyday life, where individual households are investing in a renewable energy future," said Davies. "It's a community in every sense: it's the local council, it's groups of people and it's individuals with that community, making that commitment."
***
This article originally appeared on guardian.co.uk on 28 August 2012
Article by Our World - https://ourworld.unu.edu/en/orkney-leader-in-green-energy-launches-wave-power-competition
Orkney tidal turbine generating 'phenomenal result'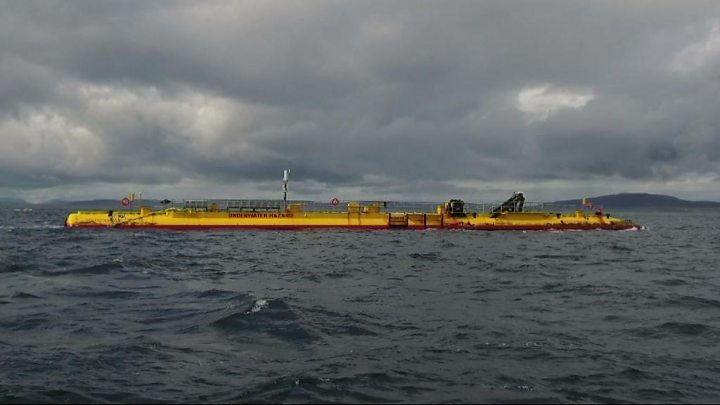 A flagship tidal energy turbine has generated more electricity in its first year than Scotland's entire wave and tidal sector produced before it.
The Scotrenewables SR2000, with its 2MW turbine, was installed in the sea off Orkney in 2017.
It has now generated three gigawatt-hours (GWh) of electricity from near continuous operation, its owners said.
It is estimated the seas around the UK could one day be capable of generating 20% of electricity needs.
The European Marine Energy Centre (Emec) in Orkney has tested 30 different devices since it was launched in 2003.
Between the rest of them, they have generated 2.8 GWh hours of electricity.
But the latest full-scale prototype, at 63m, has so far proved to be the most successful.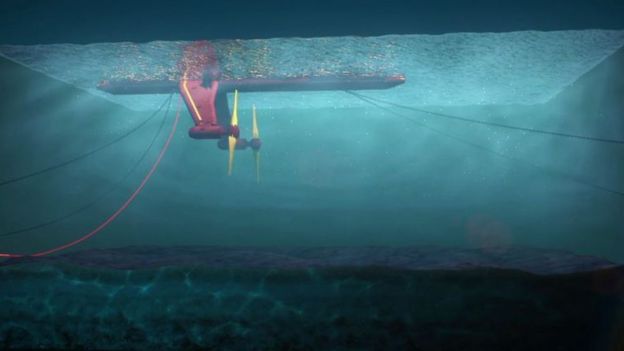 Andrew Scott, chief executive officer of Scotrenewables Tidal Power, said: "It is a phenomenal result. For one, we've had continual generation or testing for a year. That's fairly unique in this sector.
"We've generated over three GWh into the Scottish grid.
"That's more than three times any prototype system that's come before us and, in fact, cumulatively that's more power generated in 12 months from this single turbine than the entire wave and tidal energy sector has done in Scotland in the 12 years preceding the launch of this turbine."
The company believes the key to its success has been the design of the generator which is significantly different to previous tidal systems.
'Disruptive technology'
Older prototypes involved machines - similar to wind turbines - being fixed to the seabed.
However, the SR2000 more closely resembles a boat with the rotors hanging from a device which floats on the surface.
That makes it easier and cheaper to carry out maintenance because moving parts are more easily accessible.
Mr Scott added: "We've taken a very novel approach and we believe we've got a very disruptive technology in that space."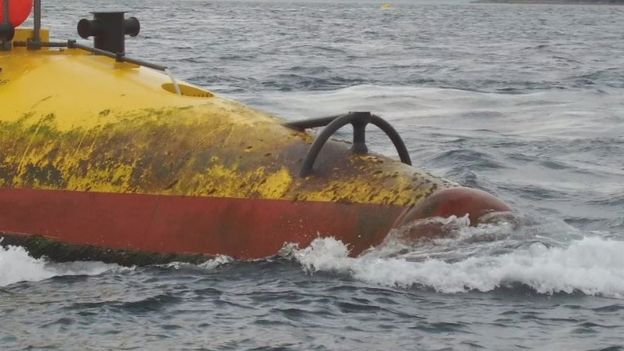 The device was installed in the Fall of Warness, west of the island of Eday, in August 2017.
It can typically generate 7% of Orkney's electricity but at points has been able to power more than a quarter of the area's homes.
But because it is still in its infancy, the power is still expensive to produce compared with wind.
Jonathan Lindsay, from Emec, said: "Wind has had about 50 years from when it first started, whereas wave and tidal has really been over the last 10 years or so and has actually made quite a lot of progress in that time.
"As we move forward we will see bigger and bigger machines coming along."
The industry experienced a significant setback four years ago when wave firm Pelamis went into administration after failing to secure investment.
But the Orkney site has recorded several '"firsts" including the recent success at creating hydrogen from marine power.
Gina Hanrahan, from environmental charity WWF Scotland, said: "As we transition to a wholly renewable electricity system, it's really important that we have a diversity of renewable electricity sources.
"We've seen huge growth in onshore wind and offshore wind over recent years and it's great to see new tidal technologies now hitting new milestones."
Article by bbc.com - https://www.bbc.com/news/uk-scotland-north-east-orkney-shetland-45246445
How Orkney leads the way for sustainable energy
A tech revolution – and an abundance of wind and waves – mean that the people of Orkney now produce more electricity than they can use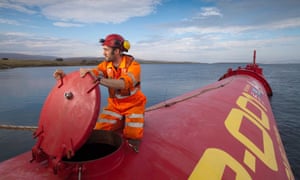 It seems the stuff of fantasy. Giant ships sail the seas burning fuel that has been extracted from water using energy provided by the winds, waves and tides. A dramatic but implausible notion, surely. Yet this grand green vision could soon be realised thanks to a remarkable technological transformation that is now under way in Orkney.
Perched 10 miles beyond the northern edge of the British mainland, this archipelago of around 20 populated islands – as well as a smattering of uninhabited reefs and islets – has become the centre of a revolution in the way electricity is generated. Orkney was once utterly dependent on power that was produced by burning coal and gas on the Scottish mainland and then transmitted through an undersea cable. Today the islands are so festooned with wind turbines, they cannot find enough uses for the emission-free power they create on their own.
Community-owned wind turbines generate power for local villages; islanders drive nonpolluting cars that run on electricity; devices that can turn the energy of the waves and the tides into electricity are being tested in the islands' waters and seabed; and – in the near future – car and passenger ferries here will be fuelled not by diesel but by hydrogen, created from water that has been electrolysed using power from Orkney's wind, wave and tide generators.
"A low-carbon renewable future, which is much talked about elsewhere, is coming early to Orkney," says ethnographer Laura Watts in her book Energy at the End of the World: An Orkney Islands Saga. The book, published by MIT Press next month, tells the intriguing tale of how Orcadians have begun to create their own low-carbon future against incredible odds and with only a little help from the mainland.
And that may come as a surprise, says Watts, a senior lecturer at the School of GeoSciences, Edinburgh University. "When people think of future technologies or innovation, they assume it has all got to be happening in cities," Watts told me when we met earlier this month. "But this revolution – in renewable energy – is being done in a place that lies at the very edge of the nation."
The idea that such an intellectual revolution could occur in a place closer to the Arctic Circle than it is to London may seem unexpected. But Orkney turns out to have a long history of generating ideas that are exported to the south. At the Ness of Brodgar, excavations at a recently discovered neolithic ceremonial complex show there was flourishing culture on the islands long before the construction of Stonehenge, Avebury and other giant edifices in the south. Neolithic grooved pottery and the first henges were conceived in Orkney before they were exported to the rest of ancient Britain. "We need to turn the map of Britain upside down when we consider the neolithic and shrug off our south-centric attitudes," says Nick Card, Brodgar's director of excavations.
This process is now repeating itself, says Watts. Orkney is leading Britain's drive toward a carbon-free future. And the critical, vital ingredient in this revolution has been the manner in which islanders have turned the energy of the winds into a reliable source of power. Low-lying and exposed to both the Atlantic Ocean and the North Sea, Orkney is battered by winds and gales throughout the year. Rainstorms sweep the islands with unbridled savagery, tear down sheds, rip slates from roofs, and can take out metres of coastline in a night. You don't need an umbrella here, you need a riot shield, one islander told Watts, who has been a regular visitor to Orkney for the past decade.
"Words such as wind and windy are redefined in Orkney," says Watts. "They are no longer mild inconveniences but powerful enough to close schools." They are also powerful enough to run more than 700 micro wind turbines – and that has been the crucial factor that has changed life on the islands, though the route to this transformation has been a rather erratic one.
In the early 1980s, Britain began experiments aimed at developing turbines that could turn wind power into electricity – at a test site on Burgar Hill, on Orkney. "However, the UK pulled the plug on it and instead the Danes and Germans went ahead and developed wind turbine technology – because their governments invested in it," says Watts. "They put in millions. The British government did not. We could have had a UK wind energy industry but we just did not invest."
The impact of wind turbine technology in Orkney was nevertheless profound and islanders took to its generation in a big way. "Orkney used to import its power but now generates, on average over the year, electricity that fulfils 120% of its own needs," says Watts. "So you have all this energy. The question is: what are you going to do with it?"
Watts outlines the three options open to islanders: build a new cable so it can export its excess renewable energy to the mainland; use more electricity on the islands; or turn its excess renewable power into another fuel – such as hydrogen – and then store it. Finding the right course is likely to have a profound impact on Britain as the nation looks to the example set by Orkney and embraces its low-carbon future.
"Consider the issue of laying another cable to link the mainland and Orkney," says Watts. "That is something that Orcadians cannot do for themselves. It is too costly. You need government help for that sort of thing and the idea of a new cable has been shunted round and round the houses for years without resolution. The islanders are having to be much more self-reliant as a result."
On the other hand, new uses for electricity are being found – by islanders who are driving increasing numbers of electric cars. "You can either pay £2 a night to charge your car or pay a fortune for a vehicle powered by diesel or petrol. It is a no-brainer. For good measure, electric cars' main disadvantage – they need recharging every 100 miles or so – is not a problem on islands that are mostly only a few miles across."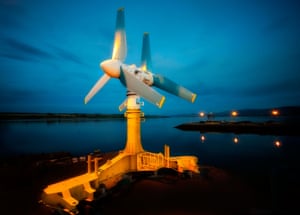 That leaves the issue of energy storage, a particular problem when dealing with renewable power. Energy cannot be simply collected from a wind turbine and exploited later when conditions are calm and windless – because there is as yet no reliable way to store it. It is a basic drawback that Orcadians are now tackling. On the Orkney island of Eday, a device known as an electrolyser – powered by renewable energy sources – splits water into its two elemental components: hydrogen and oxygen. The former can be stored and later burnt to generate electricity when needed. Already a fuel cell – powered by locally derived hydrogen – is being used to generate electricity for berthed vessels on one Orkney pier.
That is just the beginning, however. Plans are now under way to expand the use of hydrogen as a fuel for a new generation of ferries that will replace the nine ageing vessels that currently connect the various islands of the archipelago. By running these on hydrogen, massive reductions in use of diesel fuel could be made in Orkney. The first of these vessels – the world's first hydrogen-fuelled seagoing car and passenger ferry – is scheduled for launch in 2021. "We realised that if we could use hydrogen to power our ferries, we would put another dent in our carbon addiction," Neil Kermode, head of the European Marine Energy Centre (Emec) told the Financial Times last month.
The centre – based in Stromness, Orkney's second largest town – has become one of the key players in the transformation of Orkney as a power provider. Opened in 2003, it acts as a plug-and-play site for testing prototype wave and tide energy generators. A year after its opening, one such device – a giant 120-metre machine called a Pelamis converter – became the world's first wave power generator to put electricity into the National Grid. Since then dozens of other different prototypes have been put through their paces there.
Generators that exploit the power of the sea have advantages over wind turbines because the latter exploits a source of energy that is far less predictable than the tides. On the other hand, machines immersed in deep, fast flowing waters are not easily repaired when a fault occurs. "You cannot buy a book that tells you how to anchor a seabed generator to the sea floor in a 7-knot tide," says Watts. "You have to go and do it yourself and people in Orkney have been doing it for 15 years now. Marine energy is an everyday topic of conversation in Orkney.
"However, they have been doing it on a shoestring and a message needs to be made very clearly. If the UK wants to create a wave and tide industry to make up for the wind industry that it lost 30 years ago then it needs to put its money where its mouth is and invest more heavily."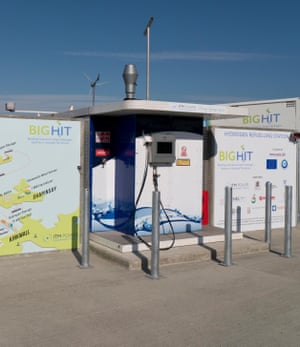 On the other hand, when central agencies do intervene, the outcome is not necessarily plain sailing. In 2009, the Crown Estate – which owns the seabed around Britain – decided it would lease out areas around Orkney to companies seeking to develop wave and tide energy. "It was the first such leasing anywhere in the world," says Watts.
The trouble was that many of the sites it leased were good for placing power generation but also for catching lobster and crab. "No one talked to the fishermen, nor to anyone else on Orkney," adds Watts. Instead, without consultation, the Crown Estate closed large areas of inshore fishing grounds. "Areas of sea where Orcadians fish, which is essential to their livelihoods, were threatened without warning, discussion or negotiation."
The Crown Estate has since tried hard to improve the situation and closer discussions are now occurring between its agents and local fishermen. Nevertheless, the episode shows how tricky it can be to merge new technologies with older, but still highly important industries.
However, adds Watts, the story of Orkney's marine energy revolution is important for another reason: it promises to have an encouraging outcome – and that certainly makes it worth telling. Our vision of the future is currently a very dark one. "We perhaps don't feel outright despair but our view is still a pretty bleak one, given the threat that is posed by climate change. The great thing about Orkney is that they are now getting on with doing something about it. I find that very cheering."
• Energy at the End of the World: An Orkney Islands Saga by Laura Watts is published by MIT Press (£27). To order a copy for £23.99 go to guardianbookshop.com or call 0330 333 6846. Free UK p&p over £10, online orders only. Phone orders min p&p of £1.99
Article by The Guarian - https://www.theguardian.com/environment/2019/jan/20/orkney-northern-powerhouse-electricity-wind-waves-surplus-power-hydrogen-fuel-cell
I've seen thousands of petrol pumps in my life, but this is my first encounter with a hydrogen refuelling station. It sits by the road in the Orkney islands, an archipelago off the north-east coast of Scotland where residents have big dreams: they want to have their cars, ferries and boilers all running on hydrogen.
As we approach the station, its normality is striking. There are no attendants in full-body hazmat suits, no sci-fi loud bangs, no bright neon signs. Just your average dispenser waiting to be used.
But Adele Lidderdale, a hydrogen project officer at the Orkney Islands Council, is a little nervous: one of her van's sensors has been malfunctioning lately, she says, and might not accept fuel from the nozzle. Now, she plugs the nozzle into her van and steps back to the screen at the other end of the black hose. She looks relieved as the charging process starts with a hydraulic mumble from within the dispenser.
Three minutes later, the 1.4kg tank full, we drive off – all without using one single drop of petrol.
Since Orkney started planning its hydrogen-based economy in 2016, the process hasn't always been this smooth. When five vans, including this one, arrived in 2017, the islands didn't have hydrogen for them, as production was still not underway. After managing to charge the tanks, the planners encountered another potential issue: who can fix a broken hydrogen vehicle in a community of 21,000 people?
You might also like:
In response to the challenges, the Orcadians flew in an expert to train a local mechanic, created fresh educational programmes for ferry operators and drafted regulations to update maritime law to allow hydrogen use in vessels. And they aren't stopping there. If everything goes according to plan, by 2021 the islands will have the world's first sea-going car-and-passenger ferry fuelled only by hydrogen.
The archipelago might seem an unlikely place for such cutting-edge aspirations. But if it can succeed, it may inspire other communities to move away from fossil fuels too. As Lidderdale says: "If we can dream that you can run a ship on hydrogen, there's no reason others won't follow."
Clean energy
Unlike petrol or marine diesel, burning hydrogen does not, in itself, produce any harmful by-products. Now, as we drive through Orkney's capital of Kirkwall, hydrogen combines with oxygen inside the van to produce an electrical reaction that powers the engine. The only tailgate emission is pure water. In other words, there's no air pollution and no greenhouse gas emissions (such as carbon dioxide) that contribute to global warming. Beyond cars, hydrogen could be used to heat buildings, power electrical facilities, propel trains, ferries and cargo ships and for industrial processes.
Another benefit of hydrogen? If you have too much, you can store and transport it at a large scale with relative ease. As one Bloomberg New Energy Finance consultant wrote in a column published last year, hydrogen "is one of the most promising ways of dealing with longer-term storage, beyond the minutes, hours or days that could be met by batteries".
But producing hydrogen is complicated. Even though it is the most abundant chemical substance in the universe, very little of it is freely available as a gas, instead forming strong bonds with other elements (for instance with oxygen to create water). You need to break up those links to "free" it for use. That process requires a great deal of electricity – electricity which may not come from "clean" sources itself, and that could be used for other purposes, for instance powering electric vehicles to begin with.
A cheaper way to produce hydrogen, meanwhile, involves using methane and carbon capture and storage (CCS). Some experts argue it might make more sense at scale, but might not be as clean. However, research published in February 2019 suggests that hydrogen produced using renewable electricity might be cost competitive and might match CCS within a decade.
But for Orkney, hydrogen via electricity works just fine. The islands already boast one of the highest densities of electric vehicles in the United Kingdom. And most crucially, thanks to sources like tidal and wave energy, Orkney creates more clean electricity that its inhabitants need. Even after exporting to the UK national grid, the islands' winds, waves and tides generate about 130% of the electricity its population needs – all of it from clean sources.
As electricity is hard to store at a large scale (we still don't have humongous batteries for whole communities), some tidal or wind turbines must switch off on occasions to avoid damaging the power lines to the UK mainland, which can't be updated cheaply.
This curtailment annoys the Orcadians and it is also expensive for the communities that invest their in clean energy. They would rather keep the turbines moving or, alternatively, find a way to use them. So residents came up with an idea: what if we use surplus clean energy to produce hydrogen?
Producing hydrogen
The hydrogen that Lidderdale pumped into the trunk-sized tank sitting behind our backs comes from a long, thin island called Eday, where about 130 people live.
Eday had too much clean energy and no way to use it. The island's population had invested in a community-owned wind turbine in 2012, hoping to sell electricity back into the UK national grid and profit from the green energy revolution. But later that year, the grid operator announced that too many new turbines had sprung up in northern Scotland and that they couldn't take all the clean energy produced, says James Stockan, Leader of Orkney Islands Council. The island is also where the European Marine Energy Centre (EMEC), the leading global institution for tidal energy, tries new tidal turbines in the rough Scottish waters.
With two reliable sources of clean energy, the island became an ideal place to start producing hydrogen.
But before anything else, the Orcadians wanted to know if they could produce it in the first place.
In September 2017, after research aided by a £1.4 million grant from the Scottish government, they had their answer. Inside a green trailer-sized container, they ran electricity through water to split the molecules into hydrogen and oxygen in a process called electrolysis. The oxygen was harmlessly released back into the atmosphere; the hydrogen was carefully compressed and stored into cylinders. The cylinders first were used for a humble enough application: they were converted into electricity on a fuel-cell at Kirkwall harbour, with the result of powering lights on some of the harbour's vessels as well as heating a nearby sailor hall.
It was the proof that if you have too much wind on Friday, you can create hydrogen with it and then use it to switch on your lights, heat a room or power your car on Sunday.
After that, new projects started coming in fast. A second electrolysis station was installed on the island of Shapinsay, as well as a boiler for a school and blueprints to create a hybrid ferry. In the meantime, there were several charging stations and five retrofitted vans were running on hydrogen. But there were even bigger goals ahead.
Oil in the seas
As our ferry left the harbour, the engine growled with diesel and pistons. No-one on board seemed to mind. The dozen or so passengers on the Kirkwall-Shapinsay service remained undisturbed, chatting among themselves or browsing their phones. Our quiet acceptance of that metallic uproar every time an engine kicks off is startling: have we normalised sound pollution?
I initially came to Orkney because of this vessel. Companies and governments around the world are contemplating hydrogen as a way to clean up the polluting marine shipping industry, which is responsible for more than 2% of all global emissions of carbon dioxide. When I asked a specialist at the European Climate Foundation about the clean shipping frontier, he told me to visit Orkney.
As an archipelago of scattered isles, the Orkney islands depend on their ferry system. Medics, goods, teachers and family members hop daily between the harbours, allowing a sense of community to exist. But the ferries also consume about one-third of Orkney's fossil fuels, hampering the islands' ambition to become a greener place. "If you're looking at how to decarbonise the maritime sector, this is one great way to do it," says John Clipsham, hydrogen manager at EMEC.
The island of Shapinsay, where we are heading, is home to just over 300 inhabitants, dramatic coasts and rolling hills. Next to the pier, Steve Bews, the chairman of the Shapinsay Development Community Trust, waits for me on a white petrol-powered van. We drive through the hilly countryside and up to the wind turbine that sits atop a slope. Built in 2012, the community-owned turbine has created enough income to provide educational grants, an electric taxi for community errands (there are no taxis on the island) and a subsidy for an extra ferry ride to Kirkwall every evening. But it's also curtailed, limiting its profitability; Bews says that 36% of its potential was going to waste.
When several organisations approached them some years ago looking for their surplus electricity to produce hydrogen in Shapinsay, the trust agreed. "We've got loads of electricity, it's green and it made sense," says Bews, who's a builder by trade and volunteers at the community organisation.
You might also like:
The electrolysis station was under construction in December 2018 and should be ready in early 2019. It will be able to produce 500 kg of hydrogen a day, roughly the daily demand of the Kirkwall-Shapinsay service if it becomes operational. The people in Shapinsay get to sell their surplus electricity and they get cheaper heating for their children: a catalytic hydrogen boiler next to the local school waits for fuel to heat its classrooms.
A while later, Bews drops me off again by the pier. Once onboard, the ferry leaves Shapinsay with its metallic song of 20th Century transportation. I wonder if its days are counted.
The journey ahead
Even if marine diesel days have an expiration date, don't hold your breath. Orkney's plan is a prototype. The rest of the world following will take years or decades.
Article by: http://www.bbc.com/future/story/20190327-the-tiny-islands-leading-the-way-in-hydrogen-power
Briefing – Ring of Brodgar Conservation Work
Historic Environment Scotland is about to start work on the latest phase of conservation at Ring of Brodgar. This work requires temporary access restrictions on the inner path through the circle, before we introduce our new management plan in Spring 2018. This briefing is intended to outline the work to date and our future plans, to address any questions you might have. The Site Ring of Brodgar is thought to have been constructed between 2500BC and 2000BC, originally made up of 60 stones on an earthwork henge. Today, 27 stones remain with the site attracting tourists from across the world, keen to see one of the largest stone circles in Britain. Situated on a low spur of land separating the freshwater Loch of Harray and from the saltwater Loch of Stenness, drainage at the site has long been a challenge, with paths liable to become boggy in wet weather. Hard standing paths and mains connected drainage are not considered suitable for the site due to the irreparable damage they would cause to archaeological layer and disruption to the rolling, grassy landscape that the site is set in.
The Project
Following research into drainage and footfall at other Neolithic sites, such as Stonehenge, a pilot drainage scheme was installed at the site in 2015. This proved to be successful, and through 2016 and 2017, work has been underway to install new hidden drainage system, composed of a geotextile membrane, gravel, sand and perforated pipes topped with wear-resistant turf. This arrangement draws water away from the pathways naturally, reducing boggy conditions..
Status
Parts of the Ring have been restricted through the summer to allow work to take place, which has led to the concentration of visitors on the first area where work was completed. To allow for this section of turf to be repaired and for all of the new turf to be allowed to bed down, access to the inner path at Brodgar is to be restricted until Spring 2018. This allows us the opportunity to ensure that the newly laid turf is healthy and strong ahead of the Summer season
Restrictions from November 2017
Future Plans
From March 2018, we will be implementing a new active management system at Brodgar. This will see sections of pathway roped off, with Rangers on hand to direct visitors. By alternating routes around the stones, the path and turf have time to rest, helping to keep them in good condition. Temporary raised paths will also be installed on the causeways, which experience the highest volume of foot traffic, to prevent damage. Improvements on site are part of a larger plan to monitor and record the conditions of Ring of Brodgar, and we are also looking at remote visitor access options such as creating 3D digital models of the stones and the site. Restrictions from November 2017
Alternating Routes from Spring 2018
Improvements on site are part of a larger plan to monitor and record the conditions of Ring of Brodgar, and we are also looking at remote visitor access options such as creating 3D digital models of the stones and the site.